The iPhone 12 was the best-selling phone in Q1 by number of units sold, the iPhone 12 Pro Max came in second. However, looking at the revenue they generated the two Apple devices switch places. This comes from the latest report by Counterpoint Research, which notes that this Q1 was a record-setting quarter with over $100 billion in revenue generated by smartphones.
As expected high end devices made the most money – models costing $400 and up account for 65% of the global revenue. The Top 10 devices in the image below account for 46% of the global revenue yet make up only 21% of the units sold.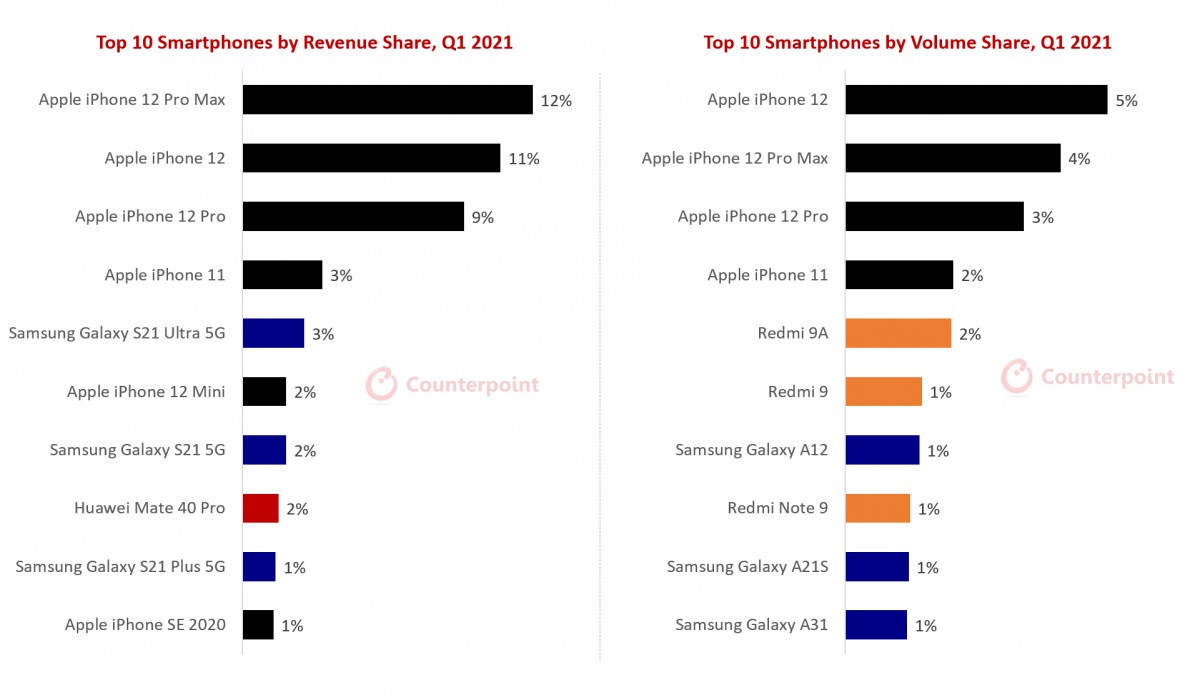 So, it shouldn't come as a surprise that many vendors that started off with value-for-money offerings are looking to move up to the premium segment, it's where the money is.
Some markets just prefer higher end devices. The US in particular saw the iPhone 12 Pro Max outsell the vanilla 12, which is the opposite of the worldwide ranking. Similarly, the Galaxy S21 Ultra topped its lower cost siblings in the States as well as in Europe. Even so, the S21 Ultra is not in the Top 10 for sales by volume and loses out to the older iPhone 11 in terms of revenue.
Apple leads the $400+ segment and its iPhone 12 series adds up to one third of the global smartphone revenue for Q1 this year. Samsung topped the $150-$250 range (that was the highest grossing segment globally), the sub-$150 range is led by Xiaomi.
https://www.gsmarena.com/counterpoint_iphone_12_series_leads_q1_sales_in_terms_of_volume_and_revenue-news-49243.php